We've just released our newest single: Young Old Man!
A song about our uncle, who in spite of or thanks to his mental disability, made us look at life differently. He, like no other, could intensely enjoy the little things that came his way.
The cover image was created by him. Two big men hands in paint. Just beautiful!
August 30 was his birthday, so a good time to release this track! Theo, this one is for you!
Available at: Amazon, Google Play, iTunes,Deezer, X Box Music, Spotify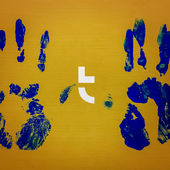 Leave a reply
Fields marked with * are required